Digital Fitness – training for the digital future
Understanding digital technologies and related transformations is becoming more important every day. Nevertheless, digital competencies are not yet sufficiently available in many areas. Digital competence here does not primarily mean finding the right buttons in an application, but developing a better understanding of digitization as a whole. This understanding helps generating new ideas and accelerating digital projects. It not only supports the use of new technologies and applications, but also facilitates the further improvement of processes and products with digital tools. In particular, improved Digital Fitness significantly accelerates digitization projects, as there is a fundamentally better understanding of the need for and speed of change. This also improves the willingness to take on new challenges and learn new things.
If you too would like to improve the basis and fitness for your digital transformation, we would be happy to work together to develop a specific approach and a suitable format for your current challenges.
Possible content and questions as an example:
What is a smart factory?
How is collaboration between humans and machines developing?
What will I have to do with Big Data and Artificial Intelligence in the future?
What skills will be important in the future?
What do all the digital terms actually mean?
How does blended learning work?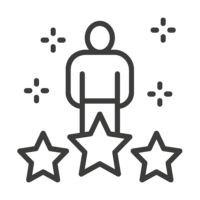 EXAMPLES DIGITAL FITNESS: